Five Tips for Creating a Job Post That Will Get Noticed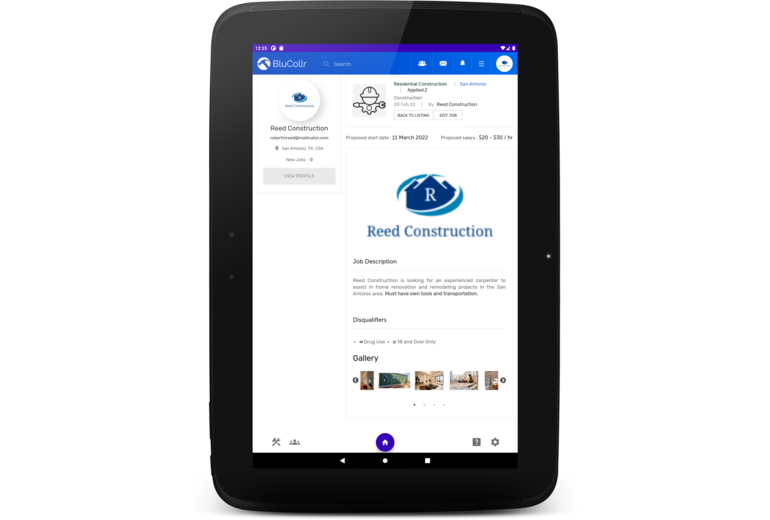 Five Tips for Creating a Job Post That Will Get Noticed
As an employer in skilled trades, general labor, or service industry, you know the job market can be tough! So here are a few quick tips for creating job posts on BluCollr that will get your job noticed!
1. Choose Multiple Industry Categories
BluCollr users tend to search for jobs based on a single industry category that includes their specific trade (e.g. carpenters generally search for jobs listed under Construction); however, a number of jobs cross multiple industry categories. So, let's say you were looking for a general handyman – you might want to consider selecting the Construction, Specialty Trades, and Repair & Maintenance categories; by choosing three categories instead of one, you'll broaden your pool of potential applicants.
2. Use an Eye-Catching Job Title
Are you hiring for an immediate fill position? Are you offering a sign on bonus? Are you offering training or entry-level opportunities? Do you offer health insurance or other benefits? If so, add it to your job title! Users are twice as likely to click on a job post that has a title that highlights a key benefit related to the job. For example, if you are looking to hire a residential plumber, and you're offering a $500 sign on bonus, you might want consider making your job title "Residential Plumber | $500 Sign on Bonus!" instead of simply "Plumber Needed."
3. Use Images
BluCollr users tend to interact with job posts that contain images more often than those that don't – so add your logo and promotional imagery to your job post! BluCollr allows you to add both a "Main Image" and "Gallery" images to your job post. The "Main Image" will appear at the top of your job post and, therefore, we would recommend using your logo for this section. The "Gallery" images will appear at the bottom of the job posting and can be used to include additional promotional material for your company (such as photos of your key projects, fleet, or corporate headquarters).
4. Set the Location to the Nearest Major City or Town
BluCollr user tend to search for jobs based on major metropolitan areas rather than smaller towns. Therefore, we would recommend setting the location for your job to the nearest major city or town and then detailing the specific location within the job posting itself. For example, if you were posting a job located in Plano, Texas, you might want to consider setting the location as Dallas, Texas and then providing a more precise location within the job post.
5. Leverage the Expanded "Job Description" Features by Editing Your Job Post
Did you know that BluCollr includes expanded features within the "Job Description" section after you save you job post? When you initially create your job post, the "Job Description" section includes a basic text formatter to allow users to quickly create and publish a job post if they're short on time (or looking for an immediate hire while on a job site). But once you save your job post, you can use the expanded text formatting features by clicking on the title of your job post in the draft tab and then choosing "Edit Job" on the right-hand side. From here, you can add hyperlinks or even insert videos directly into your Job Description. To add a hyperlink, simply highlight the text, click the link icon (it looks like chain links), and then paste the desired URL and click "Ok." To insert a video from a common video sharing site (YouTube, Vimeo, etc.), place the cursor where you want to insert the video, click insert from the dropdown menus at the top, choose "Insert/edit video" and then paste the URL for the video in "Source" and click "Ok." Once you're finished with your edits, don't forget to click "Next" and then "Submit" at the bottom of the job post to save your changes!
If you need any additional help getting started, feel free to contact support@blucollr.com.